Julie only offers online sessions at this time.
Faith-based Therapy
Christian based Internal Family Systems (IFS) therapy includes using some of the principles and techniques from Theophostic Prayer and the Immanuel Approach. Sometimes faith-based therapy includes a specific focus of what Julie calls IFS Informed Spiritual Direction/Soul Care where clients come to the process with the intention to:
identify aspects of their personality that get in the way of their relationship and connection with God/Jesus
experience the healing presence of God/Jesus and how to pray for their hurts, habits and hangups
learn how to identify parts of themselves that show up in various spiritual practices such as reading the Bible, the Examen, Meditating on the Scriptures through Lectio Divina, the Jesus Prayer, etc.
receive guidance with the parts of themselves that are afraid of God/Jesus or have a hard time trusting Him.
Spiritual formation is the ancient practice of cultivating one's spirit or soul ( psyche ) through readings, reflection, discussion, prayer, community, and various exercises aimed at matters of both immediate and eternal importance. Julie specializes in the practice of Christian formation through her seminary training and post-graduate studies with the American Association of Pastoral Counselors as well as her ongoing personal growth through silent retreats, journaling, reading (see resource page for her favorites), and communal worship.
Socrates said,
"The unexamined life is not worth living."
It could likewise be said,
"The unexamined faith is not worth having."
~ Unknown
One-on-One Consultation is offered to therapists and spiritual directors who are Christian and other helping professionals who want to learn how the IFS model can be integrated into their helping profession. One-on-one consultation is for those wanting a deeper understanding of how IFS integrates with Christianity and is designed around the needs of the consultee. You will receive access to a myriad of handouts Julie has created over the past 19 years of using the IFS model with her Christian clients.
As an IFS-I Approved Clinical Consultant, if you're seeking certification as an IFS therapist and you have completed your level 1 training, our meetings can count toward your certification.
Professional Development & Consultation Groups
Participants will learn about their own inner blocks to helping those they serve as they learn about their interior landscape of parts through the Internal Family Systems Model of psychotherapy. These groups are experiential & didactic and participants are given resources to replicate what they learn. Helpers such as therapists, life coaches, alternative medicine practitioners, yoga instructors, nurses, etc. are all welcome to participate if they have had some experience with IFS such as an introduction workshop or class.
This group experience has been offered as a 3-4 hour in-service workshop for professional development so contact Julie if you're interested in having her come to your facility to lead a professional development workshop based on the IFS model.
Online sessions you might consider utilizing HIPPA compliant online video-chat, distance therapy if you:
are a Christian seeking therapy from a seminary trained Christian therapist and cannot find one in your area
are looking to for a Christian IFS therapist
are looking for supervision or consultation about how to integrate IFS into your Christian worldview
are 'high profile' in your community and need extra anonymity and confidentiality
live outside city limits and cannot afford the time or gas money to drive the nearest therapist
are disabled or ill and have few resources or limited access to transportation.
Areas of Focus are issues Julie has extensive experience in helping guide people.
Wholistic wellness (spirit, mind, and body)
Consultation for therapists integrating faith and psychology
How to slow down the mind for contemplation and prayer
Self-compassion
Suffering well
Healing the healer
Inner Critic/Shame
Work/Life Balance & Sacred Rhythms
Decisions & Discernment
Religious Wounds
Forgiveness (of self, others, and God)
Spiritual Formation & Crisis of Faith
Childhood Neglect; the invisible wound
Process Groups give people the opportunity to connect with others who are on a similar path. Each participant is screened for group readiness and appropriate placement. Participants will be led through guided imagery, asked to journal, and share if they would like. Participants will learn how to apply techniques used in therapy to everyday life experiences. Interpersonal processing is the portion of the group experience when members speak for their current thoughts or emotions. These processes facilitate intimate and rich connection with others. Participants will also learn tips on how to remain centered with difficult people. Participants can use the group process to help them identify blind spots (i.e., parts of themselves of which they are not aware or with which they may be blended). Process groups meet for two hours, every other week.
Soul-care Workshops & Retreats
Offered twice a year at a beautiful retreat center. Integrating some of the contemplative practices of the Christian faith with modern psychology of IFS. This is a time set apart to slow down and learn to listen to yourself, God, and others in order to gain wisdom for discernment and life's decisions.

Speaking Engagements
Julie is not currently available for speaking engagements or workshops. Please contact Julie for more information about future availability.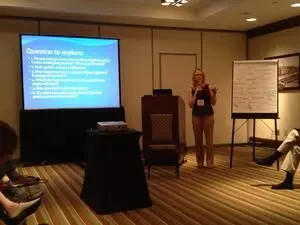 Healing the Healer/Self-Care
Bringing God into Painful Memories
The Spiritual Disciplines and Our Many Parts
How to 'Meditate' (as a Christian)
Healthy Lifestyle: Work/Life Balance
Spirit, Mind, and Body: Spiritual Reflections
Integrating Internal Family Systems with Judeo-Christian Theology